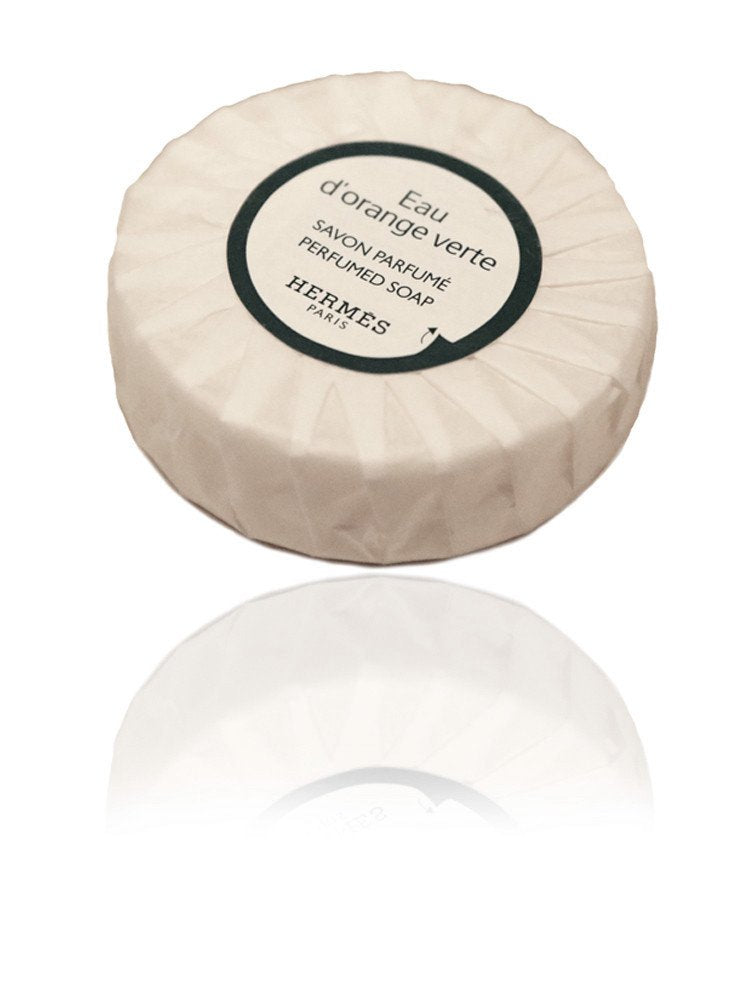 5 Hermes Eau d'Orange Verte Travel Sized Bath Soap Individually Wrapped 8.5 oz (5 x 1.7 oz)
This is a fresh, new product from Hermes, Paris and absolutely 100% authentic. Eau d'Orange Verte is a classic fragrance for men or women.
Each Hermes d'Orange Verte Savon Parfume / Perfumed Soap is 1.7oz / 50g and retails for $15.99!
This Collection contains five individual Hermes Soaps and each Soap is wrapped in paper with a delicious Citrus scent.
Each new and boxed Jumbo Hermes d' Orange Verte Savon Parfume (Perfumed Soap)
is 1.7 ounces (50 grams). Each soap decorative tissue wrap with a seal
featuring the HERMS PARIS logo on the front.. The product formula is still
the same high quality luxury formula that you have been used to. The plastic
dish has been eliminated as an effort to reduce waste and support sustainable
efforts in the industry. Hermes Paris' imported classic Eau d' Orange Verte is
a fresh fragrance from world famous Hermes de Paris, Paris, France. The Hermes
Eau d' Orange Verte scent was created to blend harmoniously with the "Art de
vivre" of today's men and women. They are created with natural products and
are safe for naturally sensitive skin. Beautiful and Elegant with a delicious
Orange fragrance from the Eau d'Orange Verte Collection. Please see our
listings for other quantities of these luxurious Perfumed Soaps.