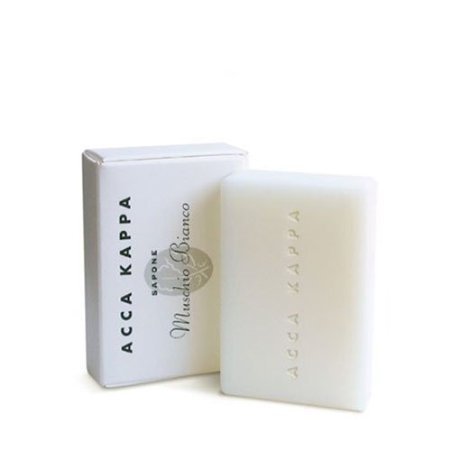 Acca Kappa Soap, White Moss - Set of 3, 3.5 Oz (100 G) Soaps
Set of 3 Acca Kappa White Moss Boxed 100 gram/3.5 Oz soaps. The White Moss scent surrounds the body with the fragrance and freshness of an Italian spring. A harmonious blend of sweet, sensual notes; light wood, amber and musk.
Acca Kappa vegetable soaps are made with a paste obtained from the saponification of pure palm and coconut plant oils.
The paste is made by melting the shavings and amalgamating the fragrance. The well-amalgamated paste is passed through a mould that shapes the soap and the cakes of soap are then packaged.
Created using traditional techniques with raw materials of exclusively plant origin.
An elegant range of products for men and women created with a delicate, refined selection of natural ingredients.
In 1869, Acca Kappa was founded in Treviso, Italy and Hermann Krull began what
would soon become one of the finest manufacturers in all of Europe. The pure
and delicate notes evoked from Acca Kappa White Moss are derviced from two
Mediterraneam plants: Lavender - with its marvelous blossom and delicate
perfume know since the accent times for its relataing and soothing qualities
and Juniper with its fragrant wook and balamic berries.