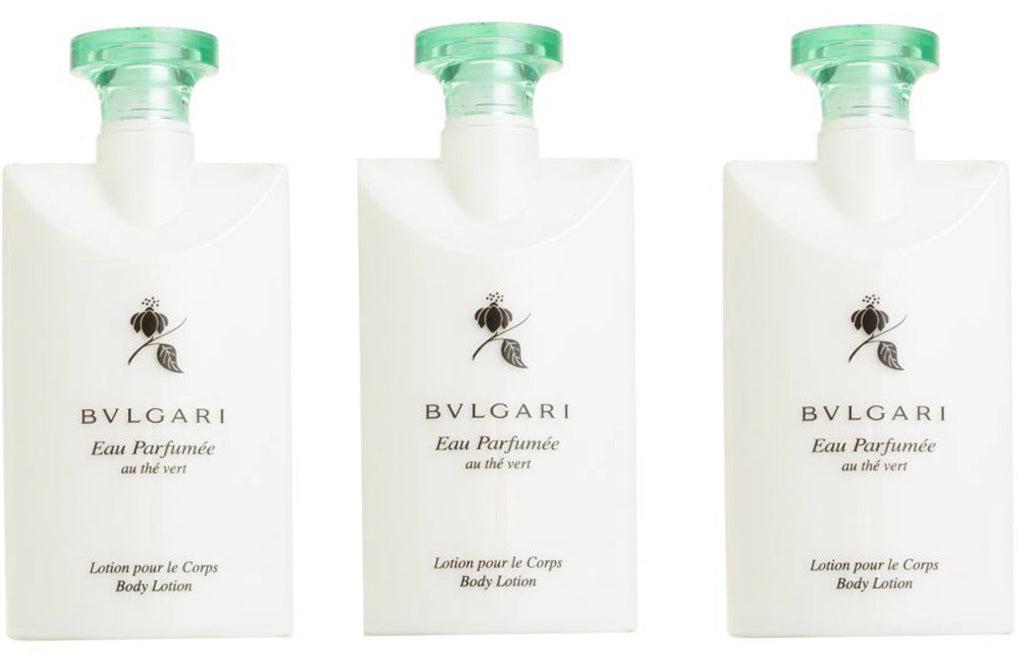 Bvlgari Au The Vert (Green Tea) Lotion - 2.5 Fluid Ounces Each - Set of 3
Set of 3, 2.5 fl oz bottles for a total of 7.5 fl oz. A luxuriously moisturizing body lotion with notes of green tea. The unisex fragrance combines a longer-lasting scent with discreet intensity.
Bvlgaris's Eau Parfumee Green Tea, launched in 1992. Delicate and discreet, yet lively and citrusy, this fragrance is sourced on a base note of green tea leaves, which are known for their relaxing and healing properties.
The idea of teaits aromatic nuances, its refreshing, revitalizing power inspired the creation of this radiant, revolutionary fragrance: Eau Parfumee Au The Vert. Men are magnetized by its green, leafy energy. Women love its petal-like delicacy. Offered in a luxurious collection to transform a private moment into a fragrant ritual of well-being.
Notes: Italian Bergamot, Tunisian Bitter Orange, Spanish Orange Blossom, Ceylon Cardamom, Jamaican Pepper, Russian Coriander, BVLGARIan Rose, Egyptian Jasmine, Green Tea, Smoked Wood.
For over a century, BVLGARI has been setting the standard for luxury. Their
timeless, yet uniquely modern jewelry has distinguished them as one of the
leading purveyors of beauty and style. Using the same principles applied to
creating their jewelsinnovation, design, and detailBVLGARI created a
collection of perfumes that are equally as luxurious.