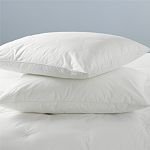 Invista Comforel Standard Pillow Set (2 Standard Pillows)
Size: Standard 20" x 26"
Design - Medium Support
Fill - 100% Polyester Fiber
The Dupont Comforel line of pillows is hypoallergenic
The listed price includes 2 standard pillows
The Dupont Comforel Standard Pillow is built from resilient materials that

provide an excellent night's sleep. The specially created fiber puffs in this

pillow provide plush, lofty support. The Dupont Comforel pillow is used in

many fine hotels and now you can enjoy this support in your own home. Fabric -

230 Thread Count, 100% Cotton. Design - Medium Support. Fill - 100% Polyester

Fiber. Edge - Double Needle Corded Edge. Care Instructions - Machine Wash and

Dry. Information Listed on the Dupont Comforel Pillow Tag - "Comforel, this

pillow is made to Invista certified quality standards." The Dupont Comforel

line of pillows is hypoallergenic. Note - Invista bought the DuPont Comforel

line of pillows. The Comforel pillows are now mainly branded Invista but are

identical to the Dupont Comforel products. The listed price includes 2

standard pillows.